What do you get when you have yummy chocolate, a little bit of education, and a 36-week pregnant Mama wearing a 14 month old in a hip sling and trying to manage 5 other little ones? ...A fun and delicious homeschool field trip, but very few and
very
blurry pictures.
The Melting Pot is a very expensive but very good fondue restaurant that my husband will occasionally take me to for a fun date night. (Think...once or twice a year for a really special occasion.) They recently hosted a Wonka Chocolate Tour at their restaurant as a benefit for St. Jude's Hospital Cancer Research at only $5 a child. We couldn't make it that day but were thrilled when we got an email from another homeschool mom who was organizing a field trip with The Melting Pot to do the same thing. It was especially a timely fieldtrip for G8 who just finished reading
Wonka and the Chocolate Factory
a couple of weeks ago.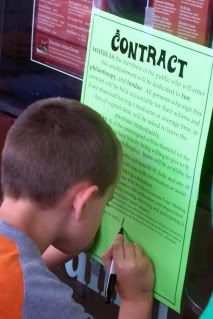 First, the kids had to sign the Wonka Contract promising to have fun. They all received Chocolate Melting Bars...and G8 got a golden ticket! (It was a gift certificate worth $25 to The Melting Pot.) They were then greeted by Wendy Wonka (Willy's sister, of course) who led us through the doors.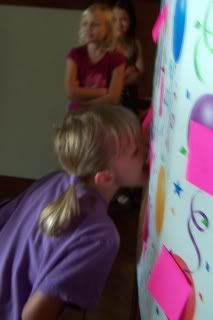 Our first stop was at the edible wall paper...yeah,
really
. Plastic tablecloth was taped to the wall and each child got a chance to taste a spot...which was thankfully then covered with a sticky note to prevent double-licking. I'm assuming by the kids' comments that lemon juice has been squirted on the tablecloth.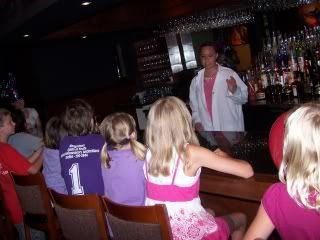 Then we all received a short chocolate history lesson and learned about the different types of chocolate...getting to sample dark, milk, and white chocolate as well as chocolate milk.
The kids really enjoyed the mad scientist who set the chocolate on fire.
Coincidentally, the Flaming Turtle Chocolate Fondue is one of Chad and my favorites!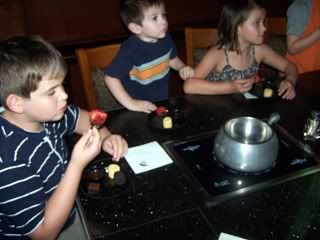 The last stop was the Chocolate Room where the original
Charlie and the Chocolate Factory
film played in the background and we all enjoyed dipping strawberries, brownies, and marshmallows into creamy melted chocolate.
Homeschooling is so much fun! :o)
Pin It Now!