Well, I can hardly believe it myself, but after months of being lapbooker-wanna-bes we have finally finished our first lapbook. Now this is not the first lapbook we've started, mind you, but it is the first lapbook we've
finished
. I'm very excited indeed!
It was at my husband's request that we do a lapbook about the Summer Olympics and since they were very fast approaching, I was on a time crunch. However (and to my dismay) we have nearly thrown out completely my very meticulously planned out summer lessons since Baby L was born, so we had some free time on our hands.
I used both an
Olympics Unit Study
from Grace bound books and a free
Olympic lapbook
from Homeschool Share. SO without further ado...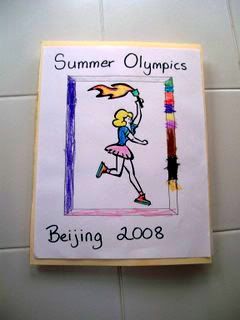 The whole family worked on the lapbook together, which worked out much better than trying to make individual lapbooks for everyone. A6 colored the front cover. We used two file folders folded into a shutterfold and then cut slits in them to connect them.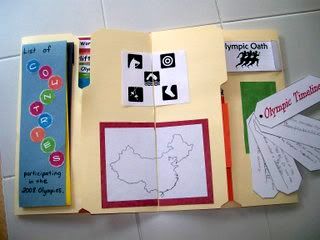 It looks like this when opened. We included an Olympic Timeline to the far right. We located Beijing on an outline map of China in the middle. And to the far left we made a semi-mini book that lists all the countries that are participating in the Summer Olympics this year. Look below to see why I've called this a "semi-mini" book!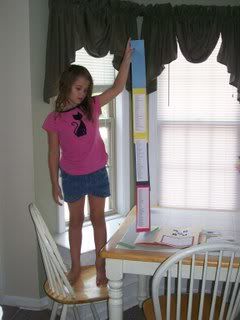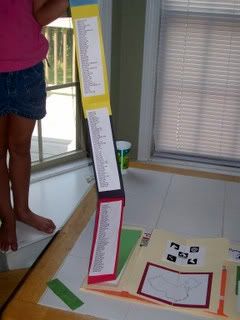 I never would guessed so many countries participated. This was a really cool effect to add to the lapbook!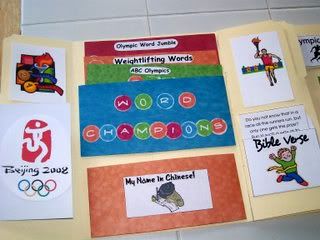 This is the left side of the lapbook opened up completely.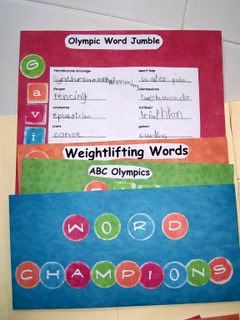 This is a close-up of a pocket folder that I made to add some of the word puzzle worksheets that the kids did. You can see, that I just cut the worksheets down and put them on different sized cardstock to layer them in the pocket. G7, A6, and E4 each did a different worksheet.
Here is a close-up of the pocket folder I made to keep the printouts of all of our family's names written in Chinese. Everyone loved this! Find your name written in Chinese
here
.
This is the right side of the lapbook completely opened up. We learned about many of the symbols and traditions of the Olympic Games, including the motto, anthem, and flag. The kids also made matchbooks with info about many of the sporting events.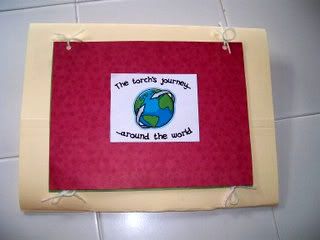 This is the back of our lapbook. I googled "Torch Relay Route" and found a website that had a map of the Olympic Torch's route around the world. We had a blank outline map of the world. So G7 would first locate the correct city on the map on the computer and we would place the dot in the correct location on our map. Then we just connected the dots. Our finished project is below...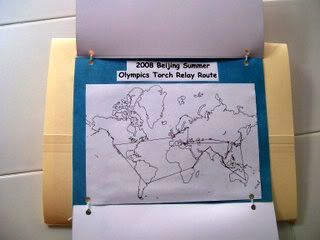 Pin It Now!