I was recently flipping through my Rainbow Resource catalog and was drawn in by the section on chore chart systems. I have been desperate to find a chore system that works for our family. G7 and A6 are definitely old enough to be of
real
help around the house. And with six kids, I'm in need of real help! However, after attending the CHEK conference (particularly the vendor hall), I am now FORBIDDEN to purchase any more homeschool related items for the upcoming school year. So, it was time to get creative...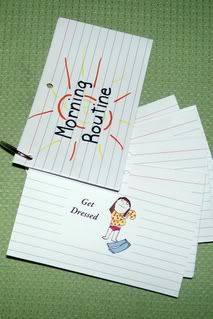 First, I have been wanting to create flip charts for the kids for some time. I made one for each of the kids to use for their morning routine and bedtime routine. I wanted them to be able to follow the routine without me having to tell them what to do each step of the way (and without them "forgetting" important parts of the routine...like teeth brushing). I found these index cards already hole punched and on a ring for 75 cents at Wal-Mart. I just printed out some clip art and pasted an activity on each index card. Once they complete the activity, they flip the card to see what to do next. Below is what I included:
Morning Routine
Make bed.
Get dressed.
Put dirty clothes in hamper.
Put clean clothes away in drawers.
Open blinds.
Put water cup in sink. (The kids keep water cups by their beds at night.)
Brush teeth.
Brush hair.
Read Bible.
Bedtime Routine
Put on pajamas.
Clean playroom.
Brush teeth.
Pray.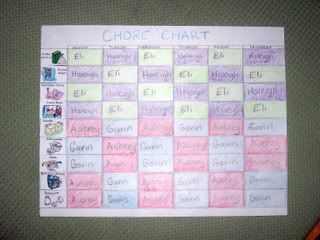 Next, I made a family chore chart. Basically, E4 and H3 switch off daily between 4 chores: One of them cleans the
family room
and is the
kitchen helper
(helps Mommy prepare meals and deliver them to the table) and the other wipes down the
table
after meals and is on
Clutter Control
(simply throwing away dirty diapers and picking up any trash that "magically" appears on the floor).
G7 and A6 switch off daily between the following tasks: One does
dishes
after lunch and
folds laundry
. The other actually does the
laundry
(putting in/taking out of washer/dryer), puts the dry
dishes away
into cabinets, and is the
babysitter
(helps me with the 2 little ones throughout the day).
We also have Saturday Chores (listed on the back of the chart). G7 wipes down the bathrooms with Lysol wipes and vacuums. A6 dusts and cleans windows/mirrors. E4 sweeps the porch. And H3 wipes off the walls and baseboards with a wet cloth.
I decided that the kids would earn points for doing their chores (mostly it is too expensive to give an allowance to everyone in our large family!) They earn one point each day if they do all their chores for the day. Saturday they earn two points (one for their regular chores and one for Saturday chores). And Sunday we rest which means no chores and no points. They can use their points for certain "rewards". We have a whiteboard in our pantry where we keep a tally of points. So far, these are the rewards they can use their points on:
Rewards
10 points:
Invite a friend to stay the night.
5 points:
Stay up 30 minutes late.
Pick a candy at the grocery store. (This is not a special trip to the grocery store to get candy, just if we happen to be there.)
3 Points:
Pick out your own movie at the movie store. (Again not a special trip and our movie store has free movie rentals for kids.)
20 minutes video/computer game time.
Play a game with Daddy.
Special Arts/Craft time with Mommy.
1 Point:
One piece of candy/special snack.
Right now has been a good time to start all of this because of the flexible summer schedule. It allows me the time to actually train them in all of the chore areas. They're picking it up quickly.
Pin It Now!