My mom is in the hospital recovering from surgery this week. I could have had the kids make her six construction paper cards, but I thought a Get Well lapbook would be even better! This way each of the kids could make her a "card" and they would all be housed in one place. I found a free
nurse coloring page
for the cover and H3 and A6 colored it.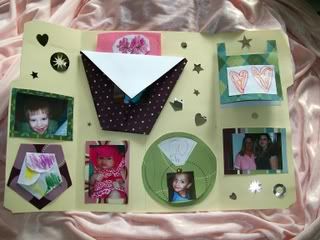 Here is the lapbook completely opened up. I printed off some wallet sized pictures on white cardstock and matted them with scrapbook paper to decorate around the mini-books.
This is the left inside flap. There is a matted picture of E1 on top since he wasn't big enough to participate in the card-making fun. On the bottom, H3 colored and glued on a petal book.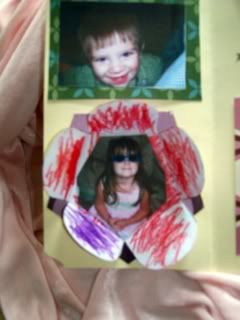 When the petal book is opened, a pretty picture of H3 is revealed.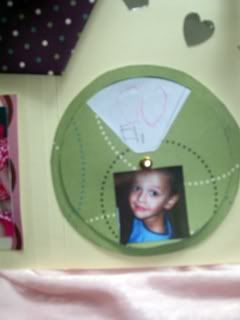 Next to a picture of Baby L is a wheel book that E4 helped to create.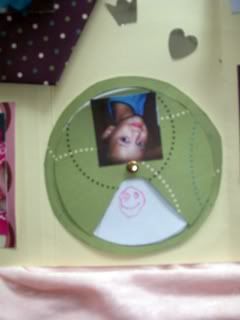 As mom turns the wheel, she'll see pictures (like this smiley face) that E4 drew for her.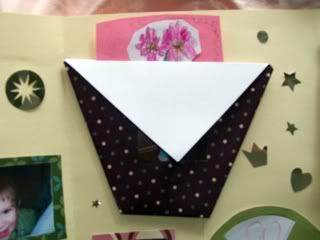 At the top, I folded an origami cup to use as a pocket to hold A6's flower card.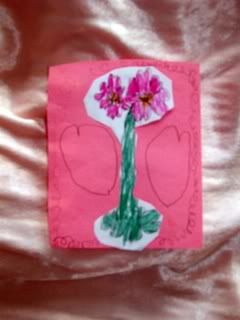 Mom can pull the card out to see the flowers that A6 drew and colored. She also wrote mom a note on the back.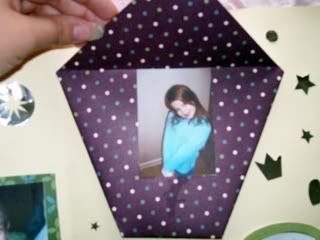 Lift up the flap of the pocket to see a picture of A6.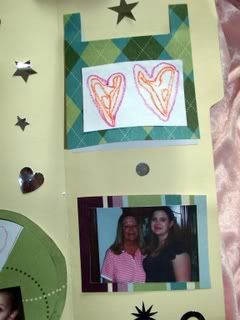 On the far right is G7's pop-up card above a photo of Mom and me.
When opened, up pops a picture and note from G7.
Mom really loved her lapbook and we all loved giving her a little something more than construction paper. If you've never lapbooked before, Homeschool Share is a wonderful free resource. You can find instructions and
templates
for all of the books we made in this lapbook there.
I would so appreciate any prayers made on my mother's behalf. We are especially praying for a quick recovery.
Pin It Now!