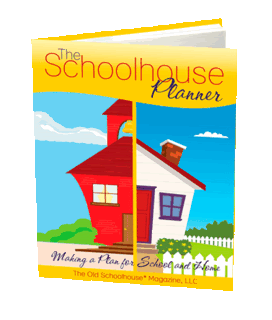 I just downloaded the new
planner
from The Old Schoolhouse a few days ago. I couldn't believe it when I opened it to find that it had 247 pages! Yes, 247 pages of calendars, articles, home schooling helps, and forms, forms, and oh yeah…more forms!
The TOS Planner (which is in e-book format) begins with calendar pages starting in July 2008 and ending with June 2009. The calendars have large blocks to write or type (yes, I said type because you can actually type right in to the calendar blocks before you print) all of your appointments or assignments. Each month you will also find a featured article, great recipes (24 in all), and home schooling resources. Many articles are written by well known home school writers…do Jeannie Fulbright, Amanda Bennett, Terri Johnson, JoJo Tabares, and Amy Pac sound familiar? And the resources are endless. Here are just a few…
Timeline of Inventions
Famous Composers
Famous Artists
Countries and Capitals
U.S. Presidents and Their Wives
Seven Wonders of the Ancient/Modern World
Important U.S. Documents from the National Archives
Periodic Table with Elements
My dad happened to be visiting when I first downloaded my planner and I was scrolling through the pages. When I got to the Timeline of Inventions, my 7 year old immediately began quizzing my dad. "Pepaw, do you know what year the refrigerator was invented?…how about crayons?….how about the DVD?"
After the planner pages comes over 70 forms to help you with home school planning and organizing your household. Again I'll list just a few…
Annual Plans
Twelve Year Planning Pages
End of the Year Report Card
Test Score Recording Sheet
Weekly Planning
Field Trip Planning
Science Lab Sheet
Important Info for Baby Sitter
Chore charts
Grocery Lists
Budget Planning
It goes on and on…
You can download a sneak peak of the TOS Planner for free or order your copy
here
.
Also, I promised you another opportunity to enter the contest to win a
TOS Digital Magazine Subscription.
(Read about the contest
here
.) So here's what you need to do…
Just leave a comment to this post answering one of the following questions:
What is your best home school lesson planning tip? OR What feature of the TOS Planner is most appealing to you?
Answer one of these questions in the comment section (making sure to leave me an email or blog address) and I will enter you into the drawing for the TOS Digital Magazine Subscription. Don't forget, you can be entered up to three times…
1. Leave a comment to this post answering one of the above questions.
2. Leave a comment to yesterday's post
here
.
3. Post a message on your blog linking back to yesterday's post about the contest. Make sure to let me know where to find the link when you leave your comment.
The contest is open until 11pm on Friday, August 15th when I will be randomly selecting the winner. Good Luck!!!

Pin It Now!