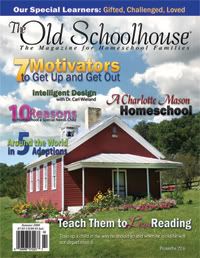 Oh, I'm so excited! When The Old Schoolhouse Magazine started offering
digital subscriptions
a few months back, I signed up immediately. I have enjoyed having my favorite homeschool magazine delivered straight to my inbox ever since and now I have the pleasure of giving away a TOS Digital Subscription to one lucky winner!!
Want to win?! Great! Just read on...
Anyone who has read The Old Schoolhouse magazine knows that not only is it beautifully laid out, but that it is stock full of inspiring and helpful articles for every homeschool parent. In the Summer 2008 edition alone, you'll find over 180 pages of articles about homeschooling special needs children, homeschooling the gifted child, Charlotte Mason homeschooling, adoption, and intelligent design. You can read "Seven Special Reasons to Get Up and Get Out!" (an article about nature walking) or "Men and Their Flying Machines" (an entire unit study about Flight). This is just the tip of the iceberg and it's just one edition of the magazine!
So what's so special about the
TOS Digital Subscription
? Well for starters it's 32% less than the print subscription...not too shabby. Plus, you get your magazine instantly...no waiting around for the mail to arrive. And its just like looking at your print magazine! Click an arrow at the top of the screen and the page of your online magazine literally turns in front of you. Click on the screen to zoom in on the article to read it and then click it again to zoom out. Save the magazine on your computer and you can read it again and again and you'll never lose it! You can even email articles to your friends...how cool is that?
I think my favorite digital feature, however, is the links. I used to dog-ear and highlight my print magazine every time I saw a link in an advertisement or article that I wanted to check out. Then I'd have to rummage through it again trying to find all the links and type them in at my computer. With my online magazine, all I have to do is click on the link while I'm reading and it takes me right there. So easy!
I know you want your own TOS Digital Subscription now, so here's your chance to win...
There are three ways that you can enter and I will randomly select a winner at 11pm on Friday, August 15th. You can just do one of the following, and only be entered once. But if you do all three, I'll enter you into the drawing three times!!!
1. The first way to enter is to simply leave a comment below with a way for me to get back in touch with you (your blog address or email address).
2. The second way to enter is to post a message on your blog to tell your readers about the contest and
linking them back here
. Make sure to leave me a comment to tell me where you did this.
3. Lastly, visit my blog tomorrow (Monday, August 11) to read my next post about the TOS Planner to answer a simple question in the comment section and you'll be entered again!
I can't wait to read your comments and I can't wait to find out who wins! Start linking and commenting...See you tomorrow!
PS. My friend, Jenn, at
Classless and Lovin' It
is having the same contest! Check out her blog and sign up there to win.
Pin It Now!