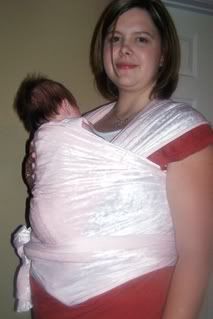 You are now looking at answered prayer!
Baby L is a precious little bundle...but a somewhat
fussy
, precious little bundle. Well, at least she's fussy when I'm not holding her. So I've been a tad bit concerned about the upcoming school year. I mean, I
am
the ultimate multi-tasker, but holding Baby L all day long would definitely make homeschooling more difficult.
While reading another blog recently I came across a term I had never heard of before:
babywearing
. I ran a search on the word and found
a site that explained it
completely.
As it turns out, lots of moms are wearing their babies...which offers comfort to their little ones and hands-free convenience for them!
One thing particularly exciting about this site is that it even gave instructions on how to
make your own no-sew baby wrap
. This is great, because purchasing pre-made baby carriers cost upwards of $60!
Basically, you just need to purchase 5 yards of fabric...either cotton jersey or a medium weight fleece. There are other fabrics that work too, but these are the ones to purchase if you want to avoid hemming.
Next, you need to cut the fabric so that it is 20-30 inches wide. The cool part is that when you do this, depending on how wide your fabric is, you'll actually end up with 2-3 wraps!
There are several different ways to wrap and carry your baby. The website has very detailed instructions and even videos to show you how to do it.
I bought my pretty pink fabric today, cut it, and with just a few practice tries...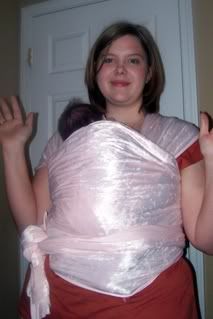 Hands-free baby-holding! I'm ready to homeschool!
Pin It Now!