I have seen so many lovely school rooms posted in the past couple weeks. I'm afraid ours doesn't compare, but it currently works for us.
Our school room is located in our basement. These pictures were taken at night, but there's actually a lot of natural light that comes through the two windows. The majority of our basement is unfinished, but we have two rooms that are finished. This one and a small playroom located right next door. We really only use this room for language arts and math. Other subjects we do at the kitchen table, on the couch, and outside.
I have a small table next to the door that I keep blank paper (lined, notebook, and drawing), tissues, and paper towels on. I had some sort of kitchen utensil holding thing that I use to hang my scissors from and hold rulers and tape.
Underneath the table we have a LARGE box for keeping library books in (so we know where to find them when it is time to take them back). I also have a box labeled 'Boredom Busters'. I have a ton of workbooks that I've picked up at yardsales and curriculum swaps and such. I cut the binding of all of these books, so that the worksheets were already torn out and then divided them according to grade level. This way, when I'm working with one student, and another needs something to do, I can tell him to pick out any worksheet that he wants to from his grade level.
This is my desk with pencils, markers, colored pencils, paint, etc. As you can see, I never actually sit at my desk as I store my scrapbook supplies underneath it. The Ten Commandments are posted above...Eventually I'll get a nice frame for this.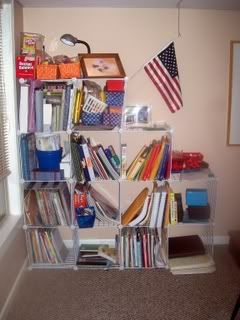 On the other side of my whiteboards are my wire cubes. I bought these at a yardsale for $5 and they are very sturdy (as long as you don't move them). I keep curriculum, extra binders and notebooks, math manipulatives, and extra "busy" things like puzzles, play-dough, and flashcards.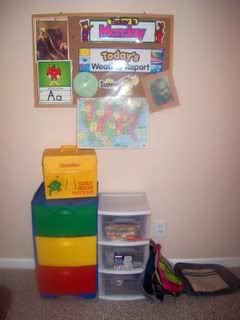 My bulletin board has the day of the week, weather, letter of the week, a US map, and some favorite artwork. The carts mostly hold craft supplies.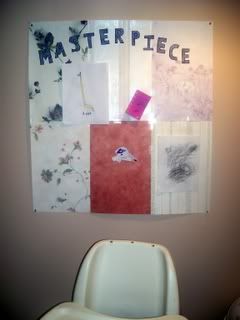 This was a last-minute project. I wanted a backdrop to hang the kids' artwork on, but didn't want to invest in another bulletin board. I had bought a wallpaper sample book for a quarter at a yardsale, and decided to just cut the samples out of the book and tape them together to form my background. (I was actually holding Baby L the entire time I was making this and was ready to just get it over with, so I wasn't picky at all with what patterns I chose...next time I'll pick ones that match better.) I just used pushpins to tack it up to the wall. The rule is each child can only display one 'masterpiece' at a time. I just tape their artwork to the display.
This bookshelf holds all of our picture books and a few reference books and extra curriculum.
Curious how others are setting up their school rooms? Cindy at On Our Journey Westward reorganized
her schoolroom
just in time this past week. Amy at
Hidden Creek Homeschool
was inspired to finish hers as well. Don't miss the classroom at
Wazley Academy
...you'll be totally jealous of all that storage space!
If you've blogged about your school room, I'd love to see it! Leave me a comment to tell me where to find it.
Pin It Now!