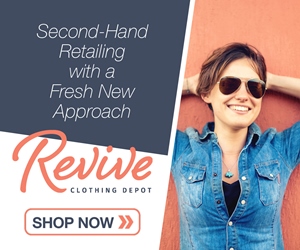 Revive Clothing Depot
is basically an online consignment shop. They sell pre-owned clothing at consignment store prices and they are now offering a subscription service to their customers.
Here's how it works. You choose if you would like to receive 4, 8, or 15 items each month and pay the Subscription price. (See above pic.) Seriously, these are amazing price points! I chose the Revive Crate which includes 15 items for $24.99...that's less than $2 per item!!!
Now to be clear, this ISN'T a subscription service where you get sent a mystery box of items and have to pay for the items you keep. Each month, you will receive the appropriate amount of credits (I received 15 since I subscribed to the Revive Crate) and then I got to CHOOSE what items I wanted. I was promptly shipped those items, they were mine to keep, NO ADDITIONAL CHARGES!
And there are SO many items to choose from. Women's, Men's, and Kid's clothing, shoes, and accessories! This is an incredible deal for us! With a large family like ours someone is always in need of some type of clothing each and every month. For years, we've tried to have a monthly clothing budget. Now all I have to do is set aside $25 and I can choose FIFTEEN items for my kids, hubby, or me...including shoes!! (Note: the Revive Crate subscription allows you to pick 5 pair of shoes each month as part of your 15 items.)
My first
Revive
package shipped and arrived quickly...I don't remember the exact timing, but it was only about 4 days, if that. Every piece was carefully folded and double wrapped in tissue paper. I was so impressed with the packaging!
Now check out all the awesome pieces I received...
(Pictured: Stacy Adams Mens Shoes, Bostonian Mens Shoes, DC Boys Shoes, OshKosh Toddler Shoes, Just Love Dress 3T, 2 pair of Arizona Girls Shorts, YMI Girls Shorts)
(Rue 21 Woman's Jacket-TAGS STILL ON, Athleta Woman's Top)
(No Boundaries Joggers, Old Navy Joggers, Daytrip Women's Top, Gilligan & Malley Women's Top)
(Madison Women's Sweater)
Once again, I'd like to emphasize...I ONLY PAID $25 FOR ALL THESE ITEMS!!!
Now, I will admit that I didn't have a completely hiccup-free experience.
~First, the site is a little slow to navigate through and the search engines don't work perfectly. For example, when searching for size 13 Men's shoes only 2 styles popped up. However, when I browsed through the 3-4 pages of all available Men's shoes, I found 4 styles of size 13 Men's shoes. That being said, this was a far less painful experience then actually having to go to a consignment shop!
~I experienced a few technical difficulties, but they were easily remedied by clicking on a little "We're here to help" button that is always at the bottom of the page as I was shopping. From an issue with my card, to forgetting my password, to wondering if a pair of shoes I was looking at was a toddler size or kids size, I had almost immediate answers from a friendly Revive Depot rep (even at 11:30 at night!).
~In my package one pair of shoes had a heel coming apart and was clearly not a size 13 mens shoes as they had been marked on the site. Also, I was missing one item. I emailed customer service, and within minutes received an email stating that they took matters like this very seriously and would forward it to their manager. The manager then emailed me within the hour to let me know my 15th item had shipped separately, but I should've been notified. He also said that there was a system of checking items for damages and sizing issues and he was sorry that the shoe issues were not caught. And then added THREE free credits to my account to use towards my next package!! I've been repeatedly impressed by Revive Depot's incredible customer service!
Above are three of the shirts and jacket that I received. All in excellent condition! My hubby was super excited about his new dress shoes for work and now all the kids are stalking the door waiting for our next Revive Crate to come! I highly recommend this subscription service. It's such a great value!
Just to be clear, I did purchase my subscription to
Revive Clothing Depot
myself and was not asked to write this review. However, the links in the review are affiliate links. If you choose to purchase a
Revive subscription
and would like to click through my
affiliate links
, I do appreciate it!
Pin It Now!