G7 is taking a class at co-op using Jeannie Fulbright's
Swimming Creatures of the Fifth Day
. The second chapter of the book discusses whales. We decided to make a lapbook about whales using
FREE templates
from Homeschool Share. I know...I'm always talking about HSS, but they are an invaluable resource!
This lapbook is pretty small compared to most that we do. I really just wanted him to make a few of the booklets to reinforce what he had learned that week while reading the chapters.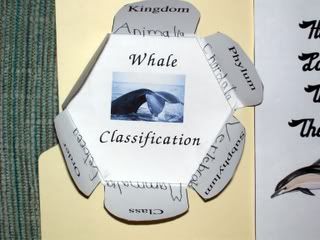 In this petal book, G7 listed how the whales are classified.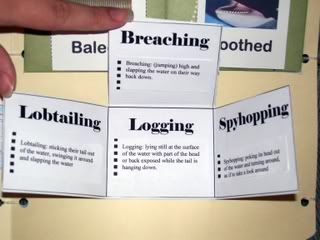 When opened, this mini-book tells the different "antics" of whales.
We made these whale cards, with a picture on one side and information about the whale on the back. Then G7 sorted them into "toothed whales" and "baleen" whales.
G7 made a chart to show how long different types of whales were.
Along the same line, we also measured the length of different whales using yarn. We cut the length and labeled each string. The Belunga whale is 15 feet. But the rest of the whales were so large we had to go to the backyard. The longest is the Blue Whale at 80-90 feet. It covered almost the entire width of our backyard...very cool to have this visual.
This is the back of the lapbook. I hole-punched a page protector and the file folder on both sides and attached them using yarn. This way I had a large pouch to keep all of our "whale measurements" in.
Pin It Now!