This week we are studying sea turtles in our
Swimming Creatures of the Fifth Day
study. One of the suggestions in the book is to draw the actual size of a leatherback in chalk on your driveway.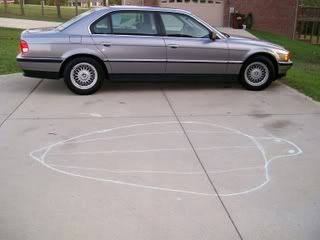 The leatherback is six feet wide and nine feet long. Isn't it cool that we homeschool and get to do this?!
Another proud homeschooling moment...
My six year old decided to let the
entire neighborhood
know that we homeschool. TRANSLATION: My Mom teach me ....*sigh*.
Pin It Now!