I cut my hair again. I know...I know...everyone thought I had just gotten in cut. But in fact I did that a couple of months ago. It was my "Summer cut". I figured it was time to update my picture since the last one I had posted here was from two babies ago. That's how I measure time...in babies.
Actually, I had a full day of beauty yesterday. Isn't that fun? My husband's high school reunion is this weekend (we met in high school, but I was a year behind him). And since I haven't lost any baby weight in three months, I needed a full day to prepare for the event. I'm just crossing my fingers that every woman there has just had a baby three months ago and that none of them are that "Oh-I-actually-
lose
-weight-when-I'm-pregnant" types.
So, my husband had his off day yesterday and happily agreed...no really,
happily
...to stay home with the kids so I could have my day. He even homeschooled them! Aren't I blessed?!
I called up my Dad and asked him if he would want to take me shopping for an early Christmas present...yes, my Daddy still spoils me rotten. So he suffered through a shopping trip (it only lasted an hour) and bought me a new outfit. Then we had lunch together. We usually do this for my birthday, but didn't this year. I was seven months pregnant, and there was really no reason to buy me clothes. So I'm glad we got to spend the time together yesterday.
Then, I rushed off to have a pedicure...OK, really, these are not typical activities for me. The whole day was actually planned around the pedicure, because I won a free pedicure at a homeschool event. It was at an upscale salon and spa and was VERY nice. My toes are now a pretty purple to match the new top my Dad bought me.
I finished off my day at my friend's salon. She has been cutting my hair since three babies ago...remember how I measure time?...and we went to high school with her. She'll actually be at the reunion this weekend. She does a wonderful job and gives us what she calls "the big family discount". I usually just let her do whatever she wants with my hair. Typically, we go lighter in the summer and darker in the fall. I have naturally dark hair.
She really stretched me this time though because she wanted to cut it way shorter than its ever been cut before. I agreed...hesitantly. I actually screamed, "WAIT!" right before the first cut and had to have her reassure me one more time. Not surprisingly, she was right. The cut is very cute.
So without further ado (you should be warned, I'm not wearing makeup...this picture is for informational purposes only)...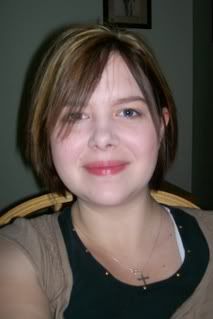 Pin It Now!