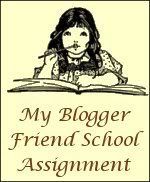 Memory Verse: Psalms 55:22 - Cast thy burden upon the Lord, and He shall sustain thee; He shall never suffer the righteous to be moved.

Assignment: This would be a good week to tell about your worst struggles with a lifestyle of homeschooling. Tell about something you've struggled with and how God's mercies gave us the strength to get past it. Also, share any curriculum/homeschool methods that have been a relief to you, i.e., a particular Teacher's Manual or Homeschooling method that's been easier for your family. Talk about how you felt when the burden was lifted and Oh, What a Relief it is!
I wrote about our struggles with teaching G7 to read back in May and I'll share that again here...
My Cup Runneth Over Today
Hubby was off today and took the girls on a daddy date, so I had the opportunity for a relaxing time with the boys. I purchased a "Read and Learn with Classic Stories Grade 1" published by McGraw-Hill over the weekend for $3 at a yardsale. There are six classic stories all with several pages of follow up fun worksheets for each story.

G7 is just coming out of 1st grade. He is doing well reading words in isolation, but has struggled with reading fluently. I have been certain that he just needs practice, but have yet to be very successful in including reading practice in our day. Instead, we have been quite bogged down by just surviving the end of the school year. Penmanship and spelling words and even family reading was on the schedule, but reading practice was not. Well, praise God that schedule is now fulfilled and no longer in operation!

I thought I might show my yardsale find to G7 and encourage him to read the first story. I was actually expecting it to be a little painful, as each of the stories are about 35 pages long. Plus, these are not the "one sentence per page" picture books. Each page has about a paragraph of text. Nonetheless, to say that I was "pleasantly surprised" by how well he did is an extreme understatement!

He read through the entire story without stopping or complaining. He actually sped through it quite quickly, reading words that I never would have imagined he could read without my help. And best of all, he loved it! After nearly 20 minutes of reading, he actually asked if he could read the next story! I encouraged him to do some of the worksheets first, which he skipped to the table to do and then completed 7 of them.

It is my goal for this upcoming school year to be the year when my children learn to love the written word. How grateful I am that I am already seeing it! Truly God is going before me preparing my children's hearts and minds. I thought about titling this blog "Success is Sweet", but couldn't. The success is not mine. It belongs solely to my seven year old and the One who created him. I have been blessed to be a part of it!
Here is a picture I took of G7 reading his Bible this morning.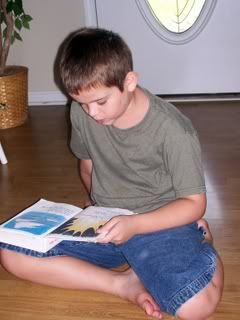 Is there any sight sweeter than this?
We have chosen lots of literature rich curriculum this year. My absolute favorite is Beautiful Feet Books'
Early American History
for primary grades. We bought the entire package which came with 20 books! I love sitting with all my little ones and reading these stories and I love the history notebooks that they are creating!
I'd love to read about how God has given you victory through homeschool trials. If you post about it, be sure to visit
BFS
and leave your link. Then let me know, so I can read it too!!
Pin It Now!