We have been reading
D'ualaire's Columbus
and discussing how Columbus wanted to find riches in the new land and bring them back to the King and Queen of Spain. He also wanted to spread the Good News of Christianity to the natives that he met. So today we made a fun craft to illustrate this.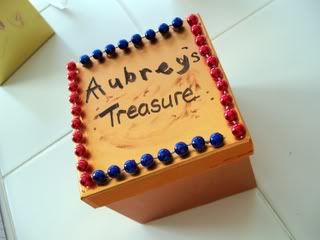 First, we made treasure boxes. I bought these gift boxes last night at Garden Ridge as the store was closing. It's been years since I've shopped there, but they use to sell kids crafts so I was hoping to find the crafty treasure boxes that kids can color and decorate. However, I was informed they no longer sell crafts (when did this happen?) So we made these gift boxes and necklace beads work.
This is the inside of the treasure box.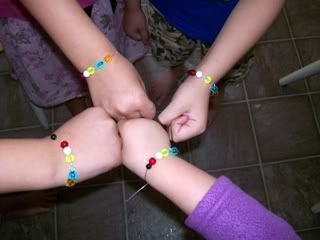 Then we made
Witness Bracelets
. Each bead (and even the knots) represents a different part of the gospel. The following is from
this site
I found that tells how to make the bracelets:
The First Knot reminds me that I am created to love God and to live with Him.
Genesis 1:27 - God created man (humans) in His own image

The Black Bead reminds me that sin keeps me away from God.
Romans 3:23 - Everyone has sinned. No one measures up to God's glory.

The Red Bead reminds me that Jesus is my Way out of sin and back to God.
Romans 5:8-9 - But here is how God has shown His love for us. While we were still
sinners, Christ died for us.

The White Bead reminds me that my new life with Jesus is clean and pure. No matter what I have done in the past, Jesus makes me brand new.
I John 1:7 But suppose we walk in the light, just as He is in the light. Then we share life with one an other. And the blood of Jesus, His Son, makes us pure from all sin.

The Green Bead reminds me to read my Bible, to pray, to obey & to worship God so my faith will grow.
Ephesians 4:15 We will speak the truth in love. We will grow up onto Christ in every way.

The Clear Bead reminds me to wait for the Holy Spirit to help me.
II Thessalonians 2:13b The Lord loves you. God chose you from the beginning. He w anted you to be saved. Salvation comes through the Holy Spirit's work. He makes people holy. It also comes through believing the truth.

The Blue Bead reminds me to choose to be more like Jesus.
Romans 8:14 Those who are led by the Spirit of God are children of God.

The Yellow Bead reminds me that God has a better place waiting for me.
Philippians 4:4-5 Always be joyful because you belong to the Lord. I will say it again. Be joyful. Let everyone know how gentle you are. The Lord is coming soon.

The Last Knot reminds me that God chose me so that I can choose God.
John 14:1-3a Do not let your hearts be troubled. Trust in God. Trust in Me also. There are many rooms in My Father's house. If this were not true, I would have told you. I am going there to prepare a place for you. If I go and do that I will come back. And I will take you to be with Me.
Pin It Now!