Well, I had two really fun things happen today in my blog world!
First, A6 had her "Pink Sketch" posted on the Harmony Art Mom blog for
Sketch Tuesday.
If you check it out, A6's sketch is the pink flower pasted on the pink construction paper. And if you want to participate, this week's assignment is to draw something that lives in a tree. I think the whole family might participate this week!
Secondly, I received the Smile Award from Marcy at
Sir Galahad Academy
!!! Thanks Marcy...you've certainly brought a smile to my face!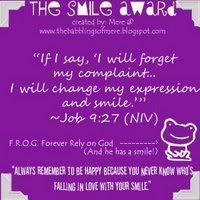 Plus, the really fun part is I get to give it away to five bloggers as well! So here goes...
People Who Make Me Smile
First is Jenn at
Classless and Lovin' It
just because I like her blog and I think if I met her in person, I would like for her to be my friend. :0)
Next is Angel at
Aduladi' & Co.
because I admire her and think she's brave. :o)
To Cindy at
On Our Journey Westward
and Melissa at
In the Sparrow's Nest
because their blogs are a wealth of information and they inspired me to do Nature Study with my children. :o) :o)
And to Marybeth at
Cheaper By the Half Dozen
because I just found her blog and I'm so happy I did! :o)
Okay...I know I'm only supposed to do five...but just one more...
And to Barb at
Harmony Art Mom
because she made my daughter smile today. :o)
Here are the rules:
1. The recipient must link back to the awards creator (it's right on the award-
The Babblings of Mere
)
2. You must post these rules if you receive the award.
3. You must choose 5 people to receive the award after receiving it yourself.
4. You must fit the characteristics of the recipient of the award (see below.)
5. You must post the characteristics of a recipient.
6. You must create a post sharing your win with others.
7. You must thank your giver.
Characteristics for the Smile Award:
1. Must display a cheerful attitude. (not necessarily at all times--we are all human).
Well, I am sure am glad for that exception.
2. Must love one another.
Thank God that He's helping me there.
3. Must make mistakes.
I got that one covered.
4. Must learn from others.
Well, that's one of my favorite things to do.
5. Must be a positive contributor to blog world.
Hmmm...I hope so.
6. Must love life.
Is there really anyone who doesn't?
7. Must love kids.
I certainly love mine!
Pin It Now!