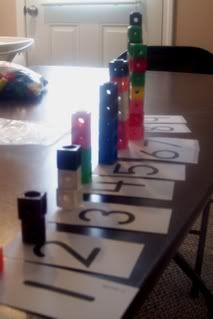 Well, today finished off Week One of our homeschool year. I'm very pleased overall with the way things are going.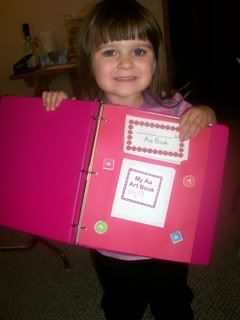 H3 has been learning all about the letter A this week. She completed the 'A' page of her Alphabet notebook. I got the idea and FREE*!!* printables from
Homeschool Share
.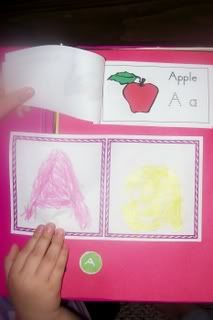 The close up shows the two mini books we made. The top book has several pages and she flips through it and says, "A is for apple...A is for angel." My favorite is "A is for astronaut." If you could only hear her 3 year old voice pronounce that word!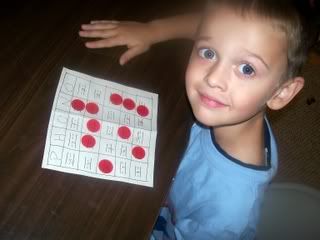 E4 has learned the seven letter strokes this week. The program I used with the oldest two had them writing the letter strokes on the memory board (see
previous post
) and penmanship paper SEVERAL times. While we still do this, I don't want to get bogged down and lose the fun of learning. E4 is a young Kindergartner and also very hyperactive. I lose his attention quickly. So today, we only wrote our letter strokes two times on paper and then we played 'Phono Bingo'!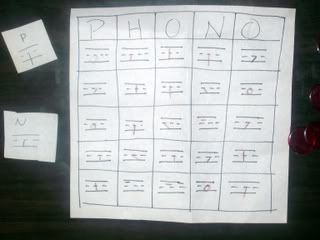 We made this game quickly...I drew a Bingo style gameboard on drawing paper and drew penmanship lines in each block. I let E4 fill in the blocks with letter strokes while I made the cards with each of the letter strokes to pull from a baggie. By the end of the game, I could tell that E4 was recognizing each letter stroke easily.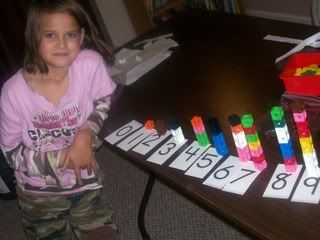 A6 created number towers for math today.
We read
A Tree is Nice
yesterday and G7 retold it in his own words today.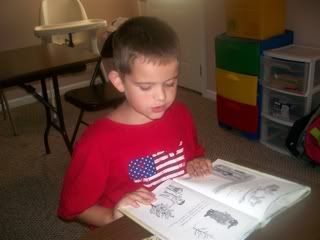 I really like the LLATL curriculum and so does G7. I love the reading and G7 likes the workbook format.
Here, E1 tries to decide if he should eat the crayon or throw it on the floor. He threw it on the floor...See,
he's
learning too!
Pin It Now!