Hubby had a couple of days off, so we loaded the kids up and headed to Indianapolis. Overall, we got to do a lot of fun things though lack of planning resulted in a few ... um, frustrating conversations.
We started only about an hour later than we wanted on Sunday morning. We made a pit stop at the IHOP along the way for some yummy pancakes, since we don't have an IHOP near where we live. (Yes, I think it's a shame, too.) Once we got to Indy, we passed the exit and it took us another hour to realize it, reroute, and get back to where we were supposed to be. We finally got to our hotel, where we picked up tickets to Conner Prairie and the Children's Museum (we did one of those package deals).
We went to Conner Prairie ( www.connerprairie.org )first , which was just the coolest place! It is an outdoor living museum set in the 19th century. I'll let the pictures do the talking...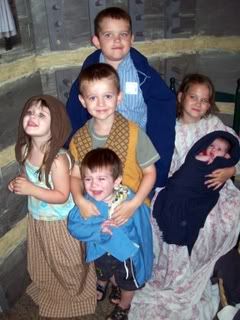 Inside the museum center, the kids dressed in period clothing. As usual, getting 6 kids to cooperate for a group photo was a very stressful experience.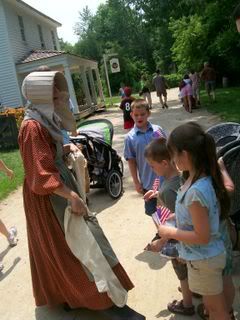 Here we stop to talk to a woman on the street who shows us the socks she is knitting and keeps in the basket she's carrying.
We visited a one room schoolhouse where the teacher told us that he expected to see G7 and A6 in December. E4 said the flag looked funny and we were told that the 26th state had just become a part of the U.S. "today".
1824 Spelling book by Webster...Interestingly enough, used by many wise homeschooling moms today.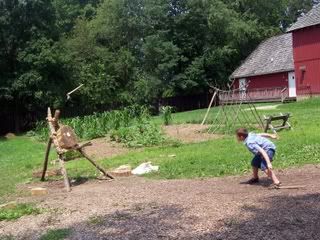 At Lenape Camp G7, A6, E4, and hubby all participate in a Tomahawk throwing. Above G7 throws and misses, but does better on his second throw which bounces off the top. This is the best out of the group as no one else comes close, especially hubby *grin* (below).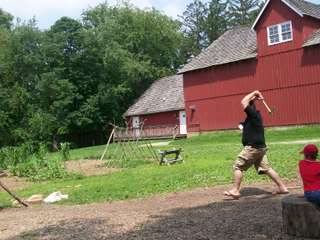 Sack race at liberty corner.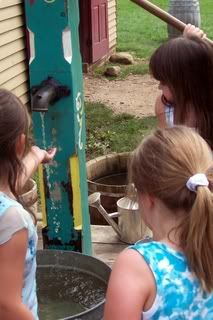 H3 pumps water and A6 tests it out.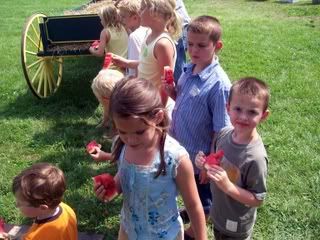 On our way out, we happened upon a watermelon seed spitting contest. Hubby spit his 13 feet! Unfortunately, I was tending to E1 and missed out on all the seed spitting fun (and the photo-ops).
If you are ever in Indy, don't miss out on this attraction! We are considering a family membership even with the 2 1/2 hour drive.
After dinner we spent the evening at the hotel swimming pool. Well, I spent it in the hot tub.
I'll post pictures of Day 2 tomorrow...typing one-handed while nursing takes a while!
Pin It Now!