...or Ha Ha ....or Hilarious.
So who can deny that having children is prime opportunity for some serious laughs? Ocassionally I catch these funny moments on camera and then I get to laugh at them again and again.
First up, this funny pic will definitely take me out of the running for Mother of the Year. But in my defense she wasn't hanging there
that long
, her Daddy was very close by, and she was actually enjoying herself at first...until it took me too long to turn the camera on and suddenly her proud moment turned into a nightmare...
No worries. She made it back safely on the ground to make me laugh again in a potato sack race...
I'm so GQ staring off into the distance while I pretend not to notice my mom taking a picture of me
...
Okay, I'll acknowledge her presence and flash her a smile so maybe she'll leave me alone
...
Really, Mom?! Are we done now
...
Another laugh out loud trio...
There was a blue moon about a month ago but I couldn't get a shot of it. They were standing around, unimpressed, until I insisted that they at least acted interested...
Just hangin' out watchin' tv...
What is it with boys and swords? Look at that face.
Don't even try to take it from me, Mom.
Aw...they love each other! Sort of...
My boys love to dance. They unfortunately got their dancing skills from me...
A day at the water park made for a boat load of funny pictures...
And a few super cheesy grins...
I
wonder
where they get it from?...
Finally, if I had a quarter for every time I said, "Will you please take your finger out of your nose so I can take this picture?"...
Linking up to
Blogging through the Alphabet
. Check out the H posts or post one of your own!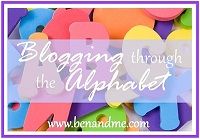 Pin It Now!