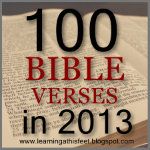 The new year is upon us, which means it is finally time to begin our scripture memorization journey! I am so amazed how God has taken this little idea to start a Facebook group for people who might like to take the challenge of memorizing 100 verses with me and grew it. Honestly, I expected only about 30 or so people to join our group. As I am writing this, our group is now over 220 participants!
I am truly excited for each one us as I am reminded of the words of Isaiah 55:11.
" So shall My word be that goes forth from My mouth; It shall not return to Me void, But it shall accomplish what I please, And it shall prosper in the thing for which I sent it."
God is in the business of transforming lives and He uses His Word to accomplish His purpose. I fully believe that we not only have the opportunity to memorize God's Word this year, but we have the opportunity
to be transformed
by it!
So, let's get started!
We will begin in the beginning with
The Bible's Fantastic Four
(2 verses this week, and 2 next week). Our verses this week are...
Genesis 1:1 "In the beginning God created the heavens and the earth." (NIV)
John 1:1 "In the beginning was the Word, and the Word was with God, and the Word was God." (NIV)
If you are memorizing from a different translation, feel free to click on links of the verse references to find these scriptures in your preferred bible translation.
Memorization Tip of the Week:
Each time you say your memory verses out loud while memorizing start and end with the reference. For example, while reviewing our first verse I will say, "Genesis 1:1. In the beginning God created the heavens and the earth. Genesis 1:1" The references are usually harder to remember than the verses themselves, so if you review your verses using this method, you will be practicing the references twice as many times as your verse, helping to secure it in your memory!
Pin It Now!