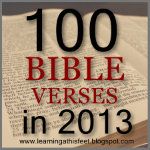 Wow! What an exciting week it's been at the
100 Verses in 2013 Facebook Group
! Over 100 more people have joined in our challenge putting us at over 330 members. The encouragement and ideas from the group have certainly been inspiring! It's not too late join, so feel free to jump in at anytime.
This week's verses are
John 1:14
"The Word became flesh and made his dwelling among us. We have seen his glory, the glory of the One and Only, who came from the Father, full of grace and truth."
John 3:16
"
For God so loved the world that he gave his one and only Son, that whoever believes in him shall not perish but have eternal life."
If you are memorizing from a different translation, feel free to click on links of the verse references to find these scriptures in your preferred bible translation.
Memorization Tip of the Week:
Now, I'm thinking you're going to think I am pretty nerdy for this. But I've often used the method laid out in the below worksheet to help really cement a verse into my memory. You really have to think about the verses and say them several times to yourselves to complete this worksheet.
Scripture Memory Worksheet
Pin It Now!