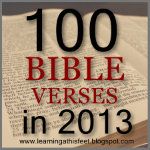 I cannot believe how fast the week has flown by and that we are already working on our 9th and 10th verses of the year!
This week I came across a
beautiful post written by Ann Voscamp on her blog, A Holy Experience
about scripture memorization. I'm keeping my post short this week but I'd encourage you to check her's out. She also includes some links to good scripture memory resources as well.
Also, Marcy at
Ben and Me
is offering a 100 Verses link up for anyone who his blogging through this amazing journey. Check it out and be inspired!
This Week's Verses
Romans 10:10
"For it is with your heart that you believe and are justified, and it is with your mouth that you confess and are saved."
2 Timothy 3:16
"All Scripture is God-breathed and is useful for teaching, rebuking, correcting and training in righteousness,"
Pin It Now!