I can remember several years ago searching online for homeschool room ideas and the pickins' were slim, to say the least. But now we have Pinterest....a place to drool over the dream rooms that are not only impractical for our space, but also unaffordable and yet we will strive to attain them nonetheless.
My measly homeschool room pales in comparison to the beautiful rooms you'll find online these days, but I do have a few special places there that I enjoy...
Oh, organization is just pretty, isn't it? On the top shelf is workbook curriculum my kids are working through divided by grade. The red, yellow, and green drawers came from a drawer system that I had that was falling a part. But the drawers were still in perfect shape. So I use them to house craft supplies and other things and store them on my bookshelf.
My new art display center is one of my favorite spaces now and an idea that came from Pinterest! Hey, not all of my pins are impractical. These are just clipboards that I found for $1 each. Chad and I screwed each on to the wall and now the kids can hang their artwork on the wall...instead of on my refrigerator!
I found something to do with all those empty spaghetti sauce jars.
Gluesticks were on sale for just 10 cents each! I bought 90 of them! I just love having a container full of gluesticks. Yes, that does make me strange.
This picture shows 3 different areas of organization that are really helping to make our homeschool run more smoothly.
~1. The two blue crates.: I bought 4 of these a few years ago for kids to keep their individual curricula in, but when we switched rooms they just took up too much space. However, I really needed more bookshelf space. So I flipped the crated on their sides and stacked them on top of each other. I thought I would need to zip tie them together, but they are actually quite stable and very sturdy.
~2. The 6-drawer unit: (Actually, it's two stackable 3-drawer units.) Each drawer is labeled with a different child's name and is just big enough for their workbooks, notebooks, and readers...also a pencil. Basically, everything they need to do their individual studies is right there in their drawer.
~3. The 6 stackable trays on top.: Their are certain items that we use everyday in our homeschool. Mostly certain books. I could keep them on a bookshelf, but often when kids pull things off bookshelves, they don't do so nicely. Instead, they rip them out, pulling other books with them. And when kids put books back on bookshelves, they don't usually find the spot where it was, sliding it in right side up, spine facing out. Instead they toss it on the bookshelf sideways and on top of the fallen-over books they left earlier. So, I found these trays to be a useful spot to place our daily textbooks. I have a tray for each of the following: our Biblical Worldview textbook, our history textbook, our history coloring/notebook pages, our science textbooks, our current read-aloud and dictionary, and a "For Mom" tray for kids to place work that needs to be graded.
Finally, who doesn't love a basket of books? I select books that go along with our current studies for 'book basket' time.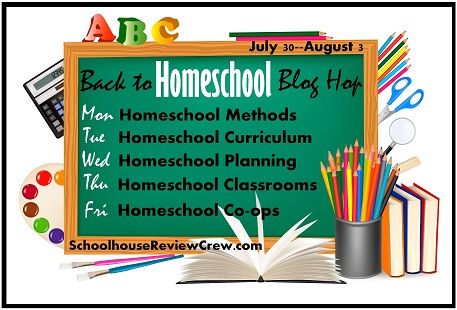 Now for the fun part...seeing everybody else's school rooms! Check them out at the links below!
Pin It Now!