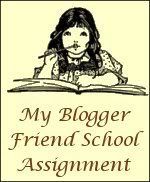 Memory Verse: Ecclesiastes 1:13-14
I devoted myself to study and to explore by wisdom all that is done under heaven. What a heavy burden God has laid on men! I have seen all the things that are done under the sun; all of them are meaningless, a chasing after the wind.Assignment: We only have today. Should God take you today, have you accomplished everything that you wanted to, needed to. Have you said all the things that needed to be said? Let's have no regrets, let's make sure we get to those things, so that when we're standing before the Lord, the only thing we need to do is to worship him.. and not regret not getting to that thing on our to do list. Stop - go take care of that thing…. then, come tell us what you choose to share.
I can't imagine I will ever be able to stand before God and be free of regret. If today were my day to go home, I know there would be plenty. Here are a few...
I would wish that I had prayed more...
worshipped harder...
obeyed Him immediately.
I would wish that I had smiled instead of frowned...
listened instead of scolded...
spoken wisely instead of sarcastically.
I would have wanted more hours spent serving in love and sharing His love with those who had no idea...
I would wish that I truly deserve it when He says, "Well done, good and faithful servant."
But I, in my flesh, do not deserve it.
I am no more than a lowly sinner full of regrets.
How in the world will I ever stand before Him without them?
Perhaps it is because He is the One that
changes sinners
into saints. He is the One who transforms us from holy to
holy
.
He is the One
who makes us deserving.
Because of His sacrifice I will stand before Him. And then I will live free of regret forever.
"Oh, the depth of the riches of the wisdom and knowledge of God!
How unsearchable his judgements, and his paths beyond tracing out!
Who has known the mind of the Lord? Or who has been his counselor?
Who has ever given to God, that God should repay him?
For from him and through him and to him are all things.
To him be the glory forever! Amen."
-Romans 11:33-36
Pin It Now!