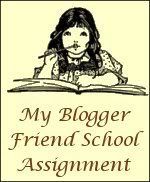 Memory Verse: Matthew 28: 20 - Teaching them to observe all things whatsoever I have commanded you: and lo, I am with you always, even to the end of the world. Amen.

Assignment: In the memory verse Jesus tells us that He will never leave us, not even at the end of the world. He assures us in this verse that He will be with us and that means through everything we go through in life. I thought it would be interesting to write about the things we would never leave home without. For some it might be baby needs, others it might be a gym bag and bottle of water, and for some it might be your Bible and a notepad or small journal, maybe even your son or daughters favorite blankie! I'd like for you to write about something that you would never leave home without.
A diaper bag...I have six kids. 'Nuff said.
My cell phone...No, I'm not one of those people that have the phone surgically attached to my head. But once I was ran off the road by a speeding truck on a icy road (he didn't stop) when my oldest was just a newborn. Luckily, my friend was in the car with me and my aunt lived down the road. I left the baby with my friend and had to walk about a half mile in the snow. My husband and I decided a cell phone was a necessity item after that.
My sunglasses...I just mentioned this in the previous post. This isn't a fashion statement, but I seriously need my glasses. This is because the sun hurts my eyes. I have no idea why, but it started a few years ago and I wear sunglasses in all seasons now. My guess is that it has to do with fatigue. I don't have time to slow down and think about how tired I am with all these little ones, but I do show signs of it. This is just my season to be tired. It's worth it.
Pin It Now!