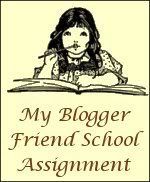 Memory Verse: Psalms 13:6 NIV
I will sing to the Lord, for He has been good to me.
Assignment: Post your favorite fall recipe/recipes to share.
Well I thought I'd share a simple recipe for applesauce. I had never made applesauce and it is SO easy, I don't know why I haven't. I made it with the kids this past Monday while we were doing a unit on apples. The next day we went on a field trip to a U Pick Farm and brought home 1/2 bushel of apples...so we'll be making some more in the next couple of days!
Applesauce
1 quart of peeled and sliced apples
I cup of water
1/2 cup sugar
1 tsp. lemon juice
cinnamon to taste
Put all ingredients into a saucepan and cook until apples are tender (about 20 minutes). Mash the mixture using an electric mixer until applesauce is smooth. Store in an air tight container in the refrigerator until cold.
The kids and my husband all loved it. I even let Baby L have some for lunch today. We'll also be making candy apples this week as well. Now that's M'mmmmmmm!
Pin It Now!