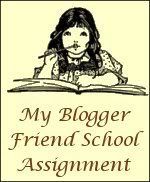 This is WACKY WEEK here at Blogger Friend School! Everything is wacky fun! This week YOU, the student, get to share something of your choice that is little "Wacky"!!!

Have you done something crazy in your homeschool? Do you fingerpaint with your toes? Do you let your children do your hair? Do you wear your pajamas during homeschool? Oh, the list is endless, but it's up to you and how much fun you want to have.

To make it even "wackier" (not sure if it's really a word, but hey, we don't check spelling this week at BFS either!!!…..try and type some or all of your post sdrawkcab. (backwards!)
Exhibit 1: Science Experiment
Conclusion...One year olds and Oreos don't mix.
Exhibit 2: Mutating into storybook characters
Exhibit 3: Fictional Geography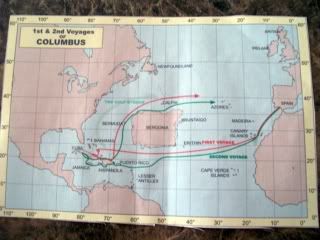 I actually had the kids cut out and paste this map of Columbus' first voyage in their history notebooks. Notice anything askew? Perhaps the large fictional country of Bergonia (half the size of the US) in the middle of the Atlantic Ocean? The only thing wackier than me not noticing the fictitious Bergonia on the map before printing it, is the creators of the very detailed website dedicated to Bergonia. Included on the website is maps of the country, details about its population, religion, wildlife, etc., etc. There's even a page that tells the entire story of Columbus landing on the island during his first voyage to the Americas. This is the page I found when I googled 'map of Columbus' first voyage'. Won s'taht ykcaw!
Pin It Now!