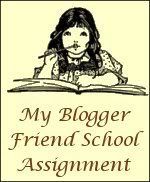 Memory Verse: Isaiah 40: 1- Comfort ye, comfort ye my people, saith your God.

Assignment: Tell us all about how you have "your" relaxing time, more especially how during the cooler months you take time to curl up with your favorite movie, book, Bible study, and what your favorite warm drink would be.

Share a picture of your favorite spot in the house or your favorite warm beverage, your favorite movie or book; possibly even your favorite Bible Study or maybe your women's Bible group.
I know this is totally unoriginal...but this simply is my favorite spot in the house. I love a hot, HOT bubble bath, a good book, and a diet coke with ice. I turn the roaring vent fan on to drown out all the "kid noise" and relax for a good hour or two.
I have to say, I've enjoyed this assignment. Even though hubby is always willing to give me my time, this event still does not occur very often. And since we were
required
to show a picture, it was necessary to fill the bath. And since the bath was
already
full, there was no sense in letting all that water go to waste...needless to say, I finished the book.
Pin It Now!