I can hardly believe it myself, but because we started our school year in July, we have already finished our first quarter of the school year. It's amazing to think that we are a fourth of the way through and it is even more amazing that I am quite certain this has been our most productive school year yet. I think this is largely due to the fact that we have teamed up with great friends (another like-minded family with kiddos similar ages to ours) to complete History and Science. We get together a couple times a week to do experiments and projects that go along with our weekly reading.
Since our history lessons recently have centered largely around Ancient Egypt, we decided to end our first quarter with a celebration...an Ancient Egyptian Feast.
For weeks, our kids have prepared for the feast which included making costumes. Here is our Ancient Egypt mummy...E9 style...
And a couple Egyptian warriors, outfitted with Egyptian weaponry...

Finally, we had some beautiful Egyptian princesses...
Our little Egyptians were awfully hungry after all their report-writing, decorating, and costume-making. But they each helped preparing the feast as well.
We served fresh fruit, hummus, whole wheat bread, and honey...all staples of the Ancient Egyptian diet. We also served goldfish crackers. Not exactly an Ancient Egyptian treat...but it represented the fact that they ate a lot of fish. :o)
We made rice crispie treat pyramids with brown sugar sand.
The kids worked hard on decorating and labeling the Ancient Egyptian map cake.
Dads and extended family attended and got to see many of the projects the kids have been working on.
Presentations included a discussion about Egyptian gods and how the true God showed He was all-powerful over all man-made idols during the ten plagues of Exodus. Also, the girls discussed different trades that women would have participated in and performed an Egyptian dance.
The boys described Egyptian weapons and set up a hunting course in the front yard for all to practice hunting skills. Also, the kids performed an awesome skit describing, and acting out the mummification process.
This week I'm linking up to
Blogging through the Alphabet
, hosted by my great friend, Marcy. She and I visited an art studio recently for a painting class and she blogs about it on her Blogging through the Alphabet post.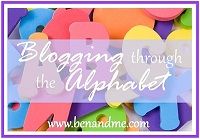 Pin It Now!