A few weeks ago, our church hosted a guest speaker who came to teach on the subject of prayer. His powerful message really impacted our church. Many, myself included, made commitments to spend more time in prayer.
I've kept prayer journals throughout the years and found them beneficial in keeping me focused and and in keeping a record of my prayers. I knew I wanted to begin something similar. After all, with eight children I am often interrupted during my prayer time and lose focus easily with so many distractions. That's when I had the idea to draw my prayers.
I wanted to be able to do a task that I would keep me focused on my prayer, but that I could stop when I needed to and come back to whenever. I looked online for resources thinking surely someone had thought of this idea before, but found very little. So, I just jumped right in...
Once again I'm linking up to "
Blogging through the Alphabet
". It's the letter 'D' this week, so check out Marcy's post and link up yourself!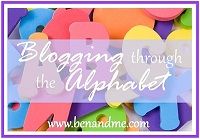 Pin It Now!