I am simply amazed at the rate that children can learn to use technology. My one year old can pick up my iphone, press the button at the bottom to turn it on, slide the safety lock across, press the itunes app, and turn the music on. No one instructed him how to do this. He figured it out himself! It took me like three weeks to figure out how to listen to my itunes! I digress.
So needless to say, computers are pretty popular around here and since they have limited access to them, my kids are always chomping at the bit to get some computer time. Access to the computers are usually only given to the "big kids". But E5 is our stuck-in-the-middle child right now. He's just on the cusp of being transferred from being grouped in with the "little four" to what will soon be "the big five". He is beginning to learn to read and has had some access to the computer with the help of his older siblings. But at his heart...he is fiercely independent. He really wants to do it on his own. For this reason, I was super-excited to have the opportunity to review
Reading Kingdom
.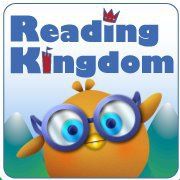 From the Reading Kingdom website:
The Reading Kingdom is a fun, easy-to-use online program that teaches children 4-10 years old how to read and write to a third grade level.
Most kids can use the program on their own after just a few lessons.

It's fun so children think they're playing a game and want to practice.

It was created by Dr. Marion Blank, Director of the Light on Learning Program at Columbia University and one of the world's top experts in reading.

It works with any other curriculum a child may be using.

It's the only program to offer customized online reading instruction for each child.

And, it's the only system that teaches all 6 skills needed for reading and writing success!

Setting up E5's account was easy and within no time at all I was sitting next to him watching him take the Skills Survey. Since Reading Kingdom is set up to customize to your child, they recommend that parents do not help at all, especially during the Skills Survey. E5 completed the survey (which to him was much like playing a fun game), and not surprising to me, he was placed in the beginner "Seeing Sequences" where he would be taught visual sequencing skills.
There are two ways for the child to operate the lessons. They can use your keyboard, or they can use an onscreen keyboard by clicking the letters with their mouse. I definitely did not think E5 was ready to use our keyboard as he is still just learning to recognize letters. The onscreen keyboard includes lower case letters as well for students who have not yet completely learned which lowercase and uppercase letters match.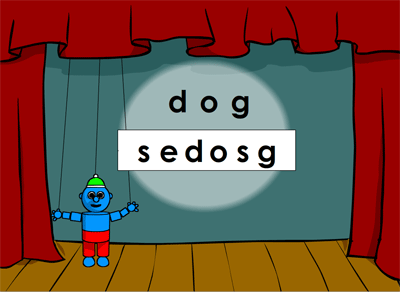 He would "play games" such as the one above. A word will be listed above and E5 is instructed to click the letters in order from left to right. If he doesn't do it fast enough, he will prompted with helps like highlighted letters. To E5's delight, the characters such as the puppet above will animate once he gets the correct answer. On the next screen, he will generally have a similar activity but the screen and animation will be completely different. As he progresses through the levels, he earns points that open a new animation in a book that he can view at the end of his lesson.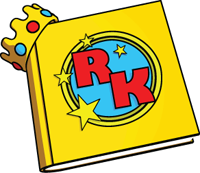 Each lesson takes approximately 20 minutes to complete which seems a little long to me, but E5 has yet to tire of it. As a matter of fact, he always politely asks for "just one more lesson". E5 has been using Reading Kingdom about 3 days a week and each time I have let him complete at least two 20-minute lessons. However, there have been a couple times when he has completed 3 or 4 in one sitting and still asked to do more.
As a parent, I can access E5's reports to see what level he is on and if he is doing well or 'needs attention'. E5 can progress through the levels even if he still 'needs attention' in them, but as the parent I can request that he repeats a level or advances through to the next. Reading Kingdom also sends me E5's weekly progress reports via email.
After using the program for a month, I can say that I have definitely seen major improvements in E5's computer skills (using the mouse, operating the program, etc.). I think Reading Kingdom has also been useful in helping him to follow directions and stay focused (which he struggles with - but Reading Kingdom requires him to follow the tasks quickly and accurately or he will be prompted to start over). I also think his letter recognition has improved.
However, I have yet to see any phonics education happening through Reading Kingdom. The sounds of the letters or words are not discussed. Also, even the names of the letters are never said. E5 will be shown letters and then expected to find them on the keyboard, but the names or sounds of the letters are not at any time said aloud. Also, he will be shown a word, such as 'dog'. Then the word will disappear and he will be prompted to choose the correct letters from his keyboard. If he doesn't choose them fast enough, the word will reappear so that he can look at them and match them up. When he gets it right, finally the word 'dog' will be said aloud.
That being said, we are still at the very beginning of the program since E5 is still so young and at such an early stage in his reading development. We will absolutely continue using Reading Kingdom for the remainder of our school year and I am excited to see how the rest of the program develops. For now, I would have to say that I would definitely recommend this program to parents, but I would use it along with a really solid phonics program.
Here are a couple more screen shots from Reading Kingdom. We haven't yet progressed to these levels, but I wanted you to see how fun they look...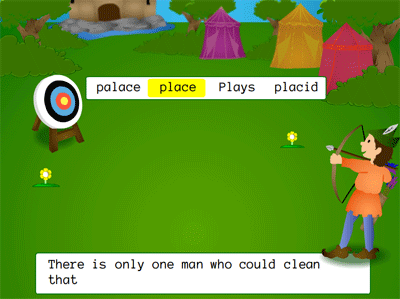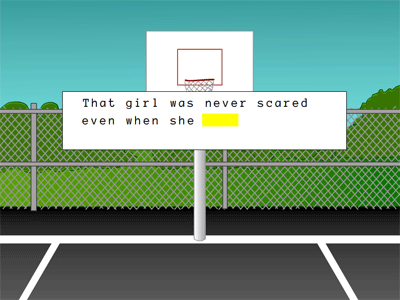 You can create a
Reading Kingdom
account and use it for free for 30 days. Then, you may purchase an account for $19.99 a month or $199.99 a year for your first reader. Additional readers are $9.99 a month or $99.99 a year. Check out the
Schoolhouse Review Crew
blog for more reviews!
Disclaimer: I have been given the wonderful opportunity to review many homeschool products over the last few years. The only compensation that I receive for my review is the free product. I feel truly blessed to have had the opportunity to participate in review groups and I have enjoyed trying out these products and giving you my honest opinion.
Pin It Now!