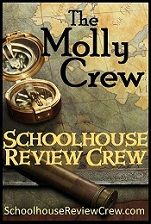 One of the reasons I have always truly enjoyed reviewing products through the Schoolhouse Review Team is because I am often introduced to new homeschool companies that I may have never known about and have the opportunity to share them with others. Today, I am sharing with you a company called
Everyday Homemaking
. Here is a quote from their website:
"

Everyday Homemaking is jam-packed with practical ideas and tools to help you better manage your household and time. Practical ideas, time- and money-saving tips, useful products, links to our favorite sites--family resources that God has used to enable us to live our lives more abundantly. Everyday Homemaking--practical ideas for busy families, like yours!"
Vicki Bentley and her husband Jim own Everyday Homemaking. They have eight daughters and have foster almost fifty children (mostly teens) since the 1980s. Vicki authored
The Everyday Family Chore System
, which was sent to me to review. I must admit, that being a mom of eight myself, I already know the importance of a good chore system. Many hands make the workload light and we have
a lot of work
to do around here! However, I am always looking for new ways to improve on our own chore system ... especially from another M.O.M., (
you know, Mom Of Many
), who knows what its like to run a large household.
The first chapter of this book is called "Laying a Foundation" and discusses the purpose of implementing a family chore system and also the Four Basic Principles that must be built when implementing a family chore system. They are
*Have realistic and age-appropriate expectations.
*Establish rules or standards.
*Have a working knowledge of family discipline.
*Tie strings to their hearts.
This section was just a few pages long, but their are so many gems here. Here are just a couple quotes...
"Someone will very likely test the rules today. It is part of the territory when you're a parent. You can prepare yourself in the family service arena by having age-appropriate expectations, pre-set consequences, and a sense of humor."
"We clarified in our family the difference between God's rules and house rules. Although house rules could be appealed, God's rules were (and are) unwavering."
"I seem to have bought into the Just Say No mentality...I realized I could turn those No's into Yes's and turn the responsibility into a positive thing for my kids. Yes, you may have dessert if you finish your healthy food. Yes, you may play that game as soon as you finish your morning jobs. I was not the Bad Guy anymore...the responsibility was now in their laps."
Part 2 of The Everyday Family Chore System was about "Implementing the Plan". This section includes a 'Life Skills Checklist' that gives suggestions of chores that could be done by children at each age starting with age 2 to teens. Following that, Vicki gives the details of their own family chore system including chart ideas, checklists, rewards and consequences ideas, and over 50 How-to-do-it cards. The cards are key to their system as step-by-step instructions are labeled on each card so that the child will know exactly how to do their job. If a job is not thoroughly completed, Mom can just remind the child to 'go read their card'.
We implemented several of the ideas from The Everyday Family Chore System immediately. Our children have always had a morning chore (to be completed after their Morning Routine but before breakfast) and an afternoon chore (to be completed after schoolwork but before free time). In addition to that, they each have a "kitchen clean-up" job to do directly following each meal. However, Vicki thoroughly explained the concept of Zone Cleaning in her book which I had heard other families rave about. We decided to create a chore chart similar to the one in The Everyday Family Chore System using the idea of Zone Cleaning.
As you can see above, each of our oldest children each have a zone that they are responsible for (on the left). On the right is their 'Kitchen Clean-Up' responsibility. The benefit to Zone cleaning is that each child still has morning and afternoon chores that are in their zone, but if at any time their zone is not tidy, I can call them in to tidy their zone. This eliminates a lot of headache for me, because before I would have to try and figure out who made the mess and who was going to clean it up. After about day three or four of implementing this system, my husband came home and exclaimed what I had already been thinking, "This is the best chore system we've done so far. The kids have really done a good job on their zones!" Our kids were most excited that the zones rotate each month...another idea from the book that we had not been doing before.
I decided not to use the exact How To Do It cards from the book, because I didn't want the kids to have to keep up with a bunch of index sized cards (and lose them). Instead, I typed out detailed step-by-step instructions for morning and afternoon chores for each zone. We printed them on 8.5x11 paper and have hung them in each of the four zones of the house. Pictured above, you can see that the instructions for the Living Room Zone has been taped to the inside of a media cabinet.
Finally, at the suggestion of the book, we also created a 'Job from the Box'. These are step by step directions for jobs that don't necessarily need to be done on a consistent weekly basis. (Think Spring Cleaning ideas.) Vicki suggests that one child's weekly chore could be to pull a job from the box. But she also suggested that the Job from the Box could be used as a disciplinary tool ...which is exactly what we have been doing. So if one of our children is displaying an unsavory behaviour, I have been telling them to pull a job from the box. They have also been given additional jobs when they didn't complete their chores after warnings. And I'm not sure that I should admit this...but...I totally have no need to assign a 'Job from the Box' as someones weekly chore, because they have already gone through this entire box once just because of disciplinary reasons. *sigh*. But hey, at least the house is getting clean!
The Everyday Family Chore System
by Vicki Bentley has easily made it to the very top of my recommended resource list for home management. I can assure you this will not be the last time I will be sharing this book to fellow parents. You can purchase
The Everyday Family Chore System
in print for $19.99 or as an
ebook
(PDF) for $17.99. Read more reviews of this product and Vicki's
Everyday Cooking
at the
Schoolhouse Review Crew
blog.
Disclaimer: I have been given the wonderful opportunity to review many homeschool products over the last few years. The only compensation that I receive for my review is the free product. I feel truly blessed to have had the opportunity to participate in review groups and I have enjoyed trying out these products and giving you my honest opinion.
Pin It Now!